PRIMSON MANAGEMENT SERVICES
Our Director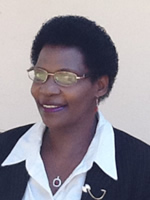 Dr Neddy Matshalaga is the Founder and Working Executive Director of Primson Management Services. Neddy Holds a PhD in Sociology for the University of Syracuse, Maxwell School in the USA, a Masters Degree in Gender and Development from Sussex University (U.K) and an Honours Degree in Economic History (University of Zimbabwe). Neddy has passion for research and evaluations. She has extensive experience (over 15years) in consultancy. In nearly 80% of her international consultancy work, Neddy has provided services as a Team Leader. She has experience in participating in multi-country studies and synthesis of complex evaluations. She is an expert in AID Effectiveness, Gender and Development, Governance, Results Based Management, Strategy Development and Development of Action Plans. Dr Matshalaga had excellent knowledge of the UN systems and has contributed to evaluations of UN related programs, Mid – Term of End of Term. Dr Matshalaga sits on a number of Boards which include The Midlands AIDS Care Organisation (MACO), Ruzivo Trust and the Council of Advisers for the Ministry of the Small and Medium Scale Enterprises of Zimbabwe. Dr Matshalaga's dream is to see Primson Management Services grow to become a renowned World Class Consultancy Firm.
Looking for consultancy services?
Get in touch and tell us what you looking for.